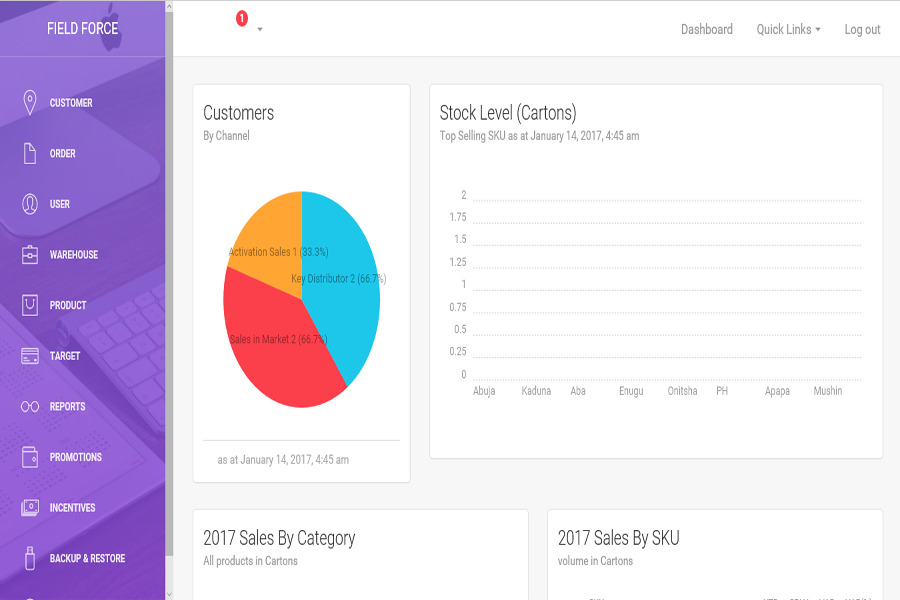 Fieldforce is a cloud-based mobile and web application for effective sales management. It aids automation of company sales business processes to enhance delivery of the expected level of services, and provide another level of monitoring and control over the day-to-day activities in the field.
Below are some of the modules of the application:
Order Module
Allows sales rep to create customer order either from mobile device or web portal depending on availability of product in base warehouse, closest warehouse or any warehouse selected.
If any promo is running and the customer is eligible, sales rep can apply such to the order.
Once order is submitted email / SMS is triggered to the superior personnel and finance personnel assigned to such rep and to the customer to serve as receipt.
Integrates with SD Pay app for real-time order payment processing.
With the Geo-Fence feature activated, orders can only be taken at the Customer shop
Warehouse Module
Virtual locations are created in FF for all direct Customers and Secondary Distribution locations to aid stock monitoring; all locations have minimum stock-holding and re-order level by SKU
All Stock movement are tracked; transfers, receipts, sell-out and returns are adjusted to get the net stock holding per virtual location
Products inflow into locations; single or multiple by Excel import
Physical Stock count is available and compares with virtual stock on system to determine shortages.
Stock update (opening stock, receipts, transfer out, sell-out, closing stock) available per location daily.
Products Module
Supports product classification by categories, brand, size, gender and age
Supports multiple price list (per channel, general, customer-specific)
Product creation; single or multiple by Excel import
Customer Module
Customer creation; classification and pinning(outlet type, customer type, credit limit, GPS coordinates)
Customer priority and price point
Customer map view
Customer creation; single or multiple by Excel import
Employee Module
Employees creation and classification; single or multiple by Excel import
Customer and Route assignment
Route distance calculation and Fuel Estimation
Role assignment
Route map view by Rep
User Module
User accounts are created and allocated to employees
Login details; username and password are regenerated
Login audit available
Promotions Module
Definition of promotion mechanics and duration
Supports specific terms; Buy One Get One Free, Buy Three get Two free
Supports variable terms; Buy X get Y free, Buy X from products bundle get Y free, Buy X get Y% off
Supports generation of promotion vouchers which can be sent via SMS or mail to customers
Target Module
Targets are setup by SKU, Customer and by Month
Targets creation; single or multiple by Excel import
Incentives Module
Definition of incentive criteria by Channel
Calculation of incentive payout based on achievement on set criteria
Reports Module
Performance Dashboard (charts)
Top / Bottom 50 Sales Reps Report
Customer Credit Aging Report/li>
Sales Vs Target and SPLY by SKU and Location Report
Definition of reports delivery intervals, reports delivery channel (SMS, Mail etc.)
Backup & Restore Module
Definition of Backup location and intervals
Restore of Backup Data