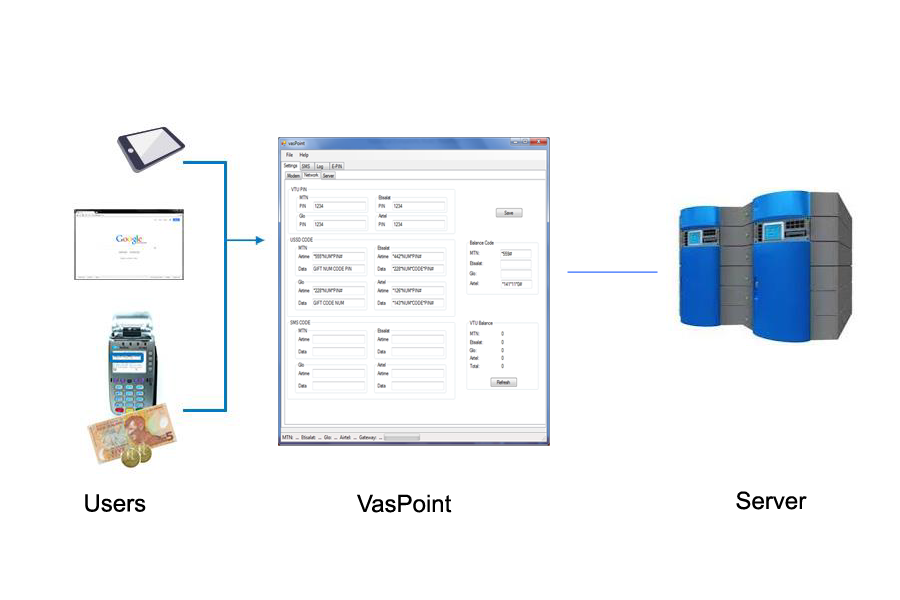 VasPoint is a central platform that integrates with VTU SIMs (obtained from the Mobile Network Operators - MNOs, or their Agents) to seamlessly vend voice and data through a single gateway; all through GSM Modems. The system also includes a PIN generation module to enable the user export and print Vouchers. VASPOINT is accessible via SMS*, Web*, POS*, Mobile App* and USSD*
VasPoint is an online server-based innovative system that enables access to authorized user to recharge vouchers and top up their data bundle irrespective of the network provider anytime anywhere. It handles automatic airtime and data transfer while maintaining high level of security through a unique pin code. The system has inbuilt monitoring / reporting features to handle checks and analysis for auditing purposes.
Highlights
Distribution agents can be prepaid, or invoiced in arrears for sales.
Operates in real time - operator and distributors always know their stock levels
Multi-level distribution hierarchy.
Gives the operator greater control over the distribution and reseller network
Supports fixed and variable top-up denominations
Eliminates reseller fraud and bad debt
Streamline management of distribution channels with the added potential to sell directly to end-users
Real-time tracking and monitoring of business performance
Reduced risk of fraud and theft by authentication pin screening.
Below are some of the features of the application:
Settings- Modem: Where the administrator sets criteria for the different Network & Gateway Modems connected to the system.
Settings-Network: Updates and Sets the Airtime and Data Codes for automatic recharge and bundling of the customers. It is a platform to check the overall balance of the data plan and airtime in the system.
Settings - Server: Sets the format and gateway numbers to be used by the customer.
Bulk SMS: Allow the admin user to send bulk messages to customers using a selected network service provider when the need arise.
Log Interface: This shows the status of the selected log and exports the data for analysis. It shows the status of the users in a particular channel.
E-Pin Generator: This generates unique E-pin to be printed based on the chosen parameters. The E-pins are then stored within the application for customer authentication and request to purchase airtime or data.
Report & Analysis: The link downloads the report and the status of each user for financial reconciliation and analysis. It saves report files in CSV format.